Gift Cards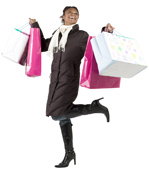 If you're not currently selling gift cards in your branches, you're missing revenue opportunities. Your patrons view you as a full-service institution so it only makes sense to start selling Visa Gift Cards too. These can be sold for any occasion and you can pay your front-line staff to start selling them today! Set up is easy and you can instantly issue the gift cards right from the teller line.
Already selling gift cards in your branch but using a third party vendor to do so? By contacting us today we can quickly determine great ways to save you money and help you switch to the Innovative Card Services platform. There are no set-up fees, no monthly fees and the process is simple.
The Visa Gift Card is a prepaid, non-reloadable, card that can be used at millions of locations where Visa debit cards are accepted, including retail stores, online merchants, and mail and phone orders. Because it's a prepaid card, spending is limited to the initial amount of money placed on the card by the purchaser.
Benefits of the Visa Gift Card:
Cost Effective
There are no set-up fees, no monthly fees or costly infrastructure required. As long as you have a PC and an Internet connection you can sign up. Each gift card ordered has a nominal fee.
Flexible and Convenient
This card gives you many options. Offer it to all of your patrons. They'll purchase Visa Gift Cards for holiday gifts, graduations, birthdays, wedding presents and so much more! Your institution can use it for staff incentives, corporate gifts, bonuses, or prizes.
Widespread Acceptance
Cards are accepted anywhere Visa debit cards are accepted-at millions of locations worldwide.
Safer Than Cash
Have peace of mind knowing the funds are safe because Visa Gift Cards are protected by Visa's Zero Liability policy.
Accessible
Ordering cards is easy through the convenience of a web-based ordering platform.