Gift Cards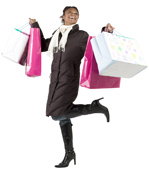 The Visa Gift Card is a prepaid, non-reloadable, card that can be used at millions of locations where Visa debit cards are accepted, including retail stores, online merchants, and mail and phone orders. Because it's a prepaid card, spending is limited to the initial amount of money placed on the card by the purchaser.
With the Visa Gift Card Program you can order gift cards right at your desk, have them shipped directly to you and then load funds on them from your computer. You'll have the control to offer your employees the convenience of a gift card for bonuses, incentives, birthdays or prizes!
Benefits of the Visa Gift Card:
Cost Effective
There are no set-up fees or costly infrastructure required. As long as you have a PC and an Internet connection you can sign up. Each gift card ordered has a nominal fee.
Flexible and Convenient
This card gives you many options. Use it for staff incentives, corporate gifts, bonuses, or prizes. Build relationships and build staff morale.
Widespread Acceptance
Cards are accepted anywhere Visa debit cards are accepted-at millions of locations worldwide.
Safer Than Cash
Have peace of mind knowing the funds are safe because Visa Gift Cards are protected by Visa's Zero Liability policy.
Accessible
Ordering cards is easy through the convenience of a web-based ordering platform.
Quick Facts
Not a credit card: The Visa Gift card is a prepaid card, not a credit card. Spending is limited to the initial amount placed on the card by the purchaser and is not reloadable.


No cash access: The card may not be used at an ATM, or for other cash advances.


To avoid declines. Cardholders can check their balance on the card at www.visaprepaidprocessing.com/INOVA/Gift or by calling the number on the back of the card.


At the register: When making a purchase, cardholders should give the card to the cashier, or choose "credit" on the keypad and sign the receipt. Although the front of the card says "debit," gift cards do not come with a PIN. Therefore, the purchase will be declined if the cardholder chooses "debit" and attempts to enter a PIN.


Online purchase: To make online purchases, the recipient must first register their card at www.visaprepaidprocessing.com/INOVA/Gift . Failure to register may result in a declined transaction.


Special Purchases. Purchases made at gas stations, restaurants, bars, taxis, beauty and barber shops, and health and beauty spas have special stipulations.*


*Please review the INOVA Federal Credit Union Terms and Conditions relating to card replacement and purchases.